Panel Descriptions

The award winning IQ Panel 2 + is a 7" HD touchscreen with built-in 5MP camera and multiple wireless radios in a clean, elegant, modern user interface. Also included is a new exclusive feature: Dual SRF featuring PowerG, the best wireless sensor protocol available. PowerG has 4x the range of traditional wireless, military grade 2-way encryption, automatic signal adjustment to improve battery life and ensure a reliable connection, and interference circumvention to ensure your signals never get blocked by other wireless protocols.
In addition to PowerG compatibility each IQ Panel 2 + includes compatibility with one of three different legacy wireless frequencies: 319.5 MHz (Qolsys S-Line, Interlogix) 345 MHz (Honeywell, 2gig) or 433 MHz (DSC) to allow you to re-use your old sensors without requiring an expensive translator. This feature enables upgrading your current alarm system relatively quickly and affordably.
There is a broad selection of devices that the panel supports including PowerG-enabled motion detectors, contacts, wireless keys and various life-safety devices such as smoke and carbon monoxide detectors.
The IQ Panel 2 + keeps you connected to an entire ecosystem of smart devices giving you control over your entire home. Exciting new features like touchless disarming using Bluetooth and a built in glass break detector are enabled through powerful software that improves over time through regular software updates.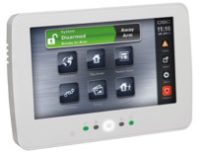 DSC Neo offers four control panels which range in capacity from 16 to 128 zones providing the reliability and capability to cater to a range of security system installations, even those with the most demanding partitioning requirements. These panels fully integrate with the extensive selection of PowerG- enabled devices which have been created with simplicity of installation and user-friendliness in mind.
DSC Neo devices require minimal installation time due to less wiring requirements, allowing for installation of devices in even the most challenging areas. The broad selection of devices includes PowerG-enabled motion detectors, contacts, wireless keys and various life- safety devices such as smoke and carbon monoxide detectors. Designed with a scalable approach to cater to future needs, the vast selection of available devices and peripherals available for PowerSeries Neo is seamlessly integrated with an exceptionally comprehensive remote service software suite to support innovative leading-edge features such as alarm verification and remote diagnostics.

Self-contained, wireless, security system.
This self-contained security system provides colour LCD touch screen convenience, at-a-glance system status, and easy to use icon-based system operation all at a cost conscious price point. 
The Simon XTi-5 panel comes standard with 40 wireless zones, or it can be set up with 38 wireless zones and two built-in hardwired supervised burglary zones (normally-closed loop only). The built-in radio receiver works with both crystal and SAW Learn Mode sensors.  
The Simon XTi-5 is designed to support a variety of devices that heighten security and enhance convenience. These accessories make it easy to customize systems that meet each user's specific needs and priorities.

Powerful, expandable security with Learn Mode technology.
Concord 4 is a full-featured security system for residential and commercial intrusion as well as residential fire detection that complies with false alarm standards. Easy to install and simple to use, Concord's modular design and advanced software provide outstanding system flexibility to meet the needs of virtually any residential or commercial security application.
The panel comes standard with eight hardwire zone inputs, including a two-wire smoke detector loop that can handle up to 20 detectors. A built-in RF receiver with 96-zone capacity (600-1021-95R only) provides instant compatibility with the complete line of Interlogix Learn Mode sensors. Two programmable outputs can be set up to activate external devices during an alarm or other system events.
Alarm System Components
Door contacts are very commonly used in security systems. They are used to detect when doors, windows and other entry points have been opened or closed. A well designed system should have protection on every entry door, at a minimum.
Motion sensors are placed within a premises to detect intruders that may have successfully gained access to a premises through an entry point that is not covered by a contact or other sensor. A single motion detector can alleviate the need to install sensors on many entry points. Motion sensors can be pet immune to ensure that household pets do not cause alarms.
Shock sensors detect vibrations made by an intruder when trying to break or open a window or door before they can enter your premises. Some models will offer dual protection by also detecting the opening of the window or door.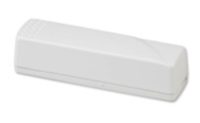 Glassbreak sensors can detect the sound of glass breaking. They are useful in securing areas with many windows.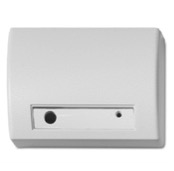 Smoke Detectors are mandatory life safety devices. There are very substantial benefits to adding monitored smoke detectors to an alarm system. Non-monitored smoke detectors only sound locally. Monitored devices result in faster dispatching of authorities. This increases the likelihood of saving anybody who is unable to exit, pets and the premises itself.
Carbon monoxide is a silent killer. It is colourless and odourless and therefore impossible to identify without a detector in place. A monitored device ensures that assistance will be dispatched in the event that residents could be incapacitated.
Basic temperature sensors detect low temperature conditions which may indicate heating system failure. Some temperature sensors can detect both high and low temperatures that are cause for alarm. They can be used in homes but also in commercial spaces to monitor refrigeration systems.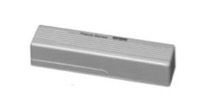 Some water sensors are designed to detect water leaks around hot water heaters, in laundry rooms, bathrooms and dishwashers. Sump pump sensors are designed to detect sump pump failure and are installed in the sump hole above the maximum acceptable water level. These sensors help prevent costly water damage by detecting these problems immediately.