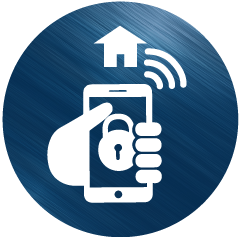 Automation with Alarm.com
Our professional-grade user friendly home automation solutions allow you to:
Keep your home more secure
Receive real-time alerts of activities in your home
Create convenient and energy saving rules and scenes
Remotely control and automate your security, lights, locks, thermostat, doorbell, garage doors and more.
Read on for examples of some of the ways you can configure the different components of your automation system.  For a full demonstration click here.

Interactive Security
Receive real-time security and environmental alerts (burglary, low temperature, flood, fire)
Arm or disarm your system from anywhere with our mobile app
Be notified if you forget to arm the system when leaving or going to bed
Stay secure with advanced tamper-resistant technology
No land-line phone required

Anytime Alerts
Set personal rules to get text, email, video or image alerts for things you care about
Receive notifications even when the system is disarmed
Works with additional products such as video cameras, thermostats, locks, garage doors

Scenes
Create personalized automated settings to control your system when arriving home, leaving or going to sleep
Leaving the house or going to bed?

By selecting the away or Sleep scene, have your doors automatically lock, your system armed, your garage door close, lights turn off, and your thermostat adjust.

Returning Home?

By selecting the home button, have your garage door automatically open, your door unlock, your system disarm, your lights turn on, and your thermostat adjust

Want a button for a different moment?

Easily build your own scenes with commands for your security system, locks, garage door, lights, thermostat and more
Locks
Remotely lock or unlock doors, and check lock status at anytime
Create lock codes for your kids or visitors so they can come and go as they please and get alerts when they unlock the door
Have your doors automatically lock when the system is armed

Program your system so that when your doors unlock, your system automatically disarms

Receive real-time alerts if you forget to lock the door when leaving or going to bed

Garage Doors
Receive real-time alerts if you forget to close the garage door when leaving or going to bed
Remotely control the garage door from anywhere to allow for deliveries to be placed inside or if a friend or neighbor needs access
Automatically close the garage when the security system is armed

Thermostats
Thermostat adjusts automatically when you leave and return
Adapt your thermostat schedule to your actual activity pattern
Remotely adjust your thermostat with our mobile app
Be alerted if your home becomes too warm or cold
Extreme temperature energy savings feature allows for automatic adjustment during very hot or cold days
Fire Safety – Stop heating and cooling automatically when smoke is detected to avoid propagating fire with air circulation
Door/Window Left Open Energy Saver – Reduce heating or cooling automatically if doors or windows are left open

Lights
Create lighting schedules for convenience or security needs
Automate lighting based on arming or disarming of your security system
Remotely turn lights on or off with our mobile app
Automatically turn off all lights when you leave
Integrate your outdoor lights with your video doorbell – when your doorbell detects motion, program your outdoor lights to automatically turn on

Video Monitoring
Use your mobile app to watch live video or recorded clips
Receive real-time video clips sent to your phone
Smart capture uses intelligent triggers to record alarms, kids arriving, sensitive areas being accessed, and more

Image Sensor
An advanced, wireless motion sensor with onboard camera
Get image alerts sent to your phone when motion is detected
Peek-in at any time from your phone, tablet or computer
Video Doorbell
Talk to family, friends, and even courier's remotely through your phone and disarm the system and unlock the door to grant them access
Automate your doorbell to record video when activity is detected outside your front door, even if no one rings
Automate your lights with your doorbell so that when motion is detected at night, they automatically turn on

Google Home / Amazon Echo
Arm your security system
Control access to your home and close your garage or lock your front door
Change the temperature
Control your lights
Please watch the following video to see what a home with Alarm.com automation is capable of.
Please watch the following video as it highlights customers experiences with Alarm.com, and what they enjoy most about it.